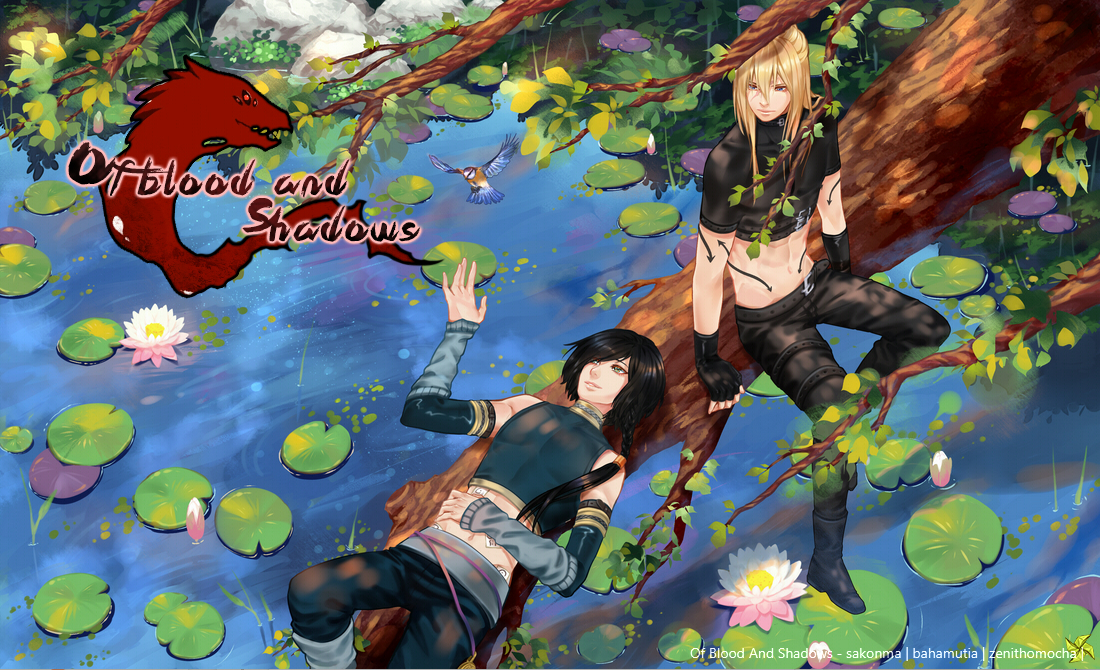 Of Blood And Shadows
ABOUT
"Of Blood And Shadows" is a free Visual Novel. The story revolves around two strangers, Salam and Yazad, whose paths unexpectedly cross, their fate bringing them closer both in good and bad ways.

Enter the setting of a feudal Japan, and play as both characters, to uncover their secrets and backstory.
FEATURES
~2-3 hours of gameplay
Extras gallery
Two walkthroughs (one for each main character)
Choices (unlocks different dialogues, rooms, etc.)
A Shady merchant
CREDITS
artist & programmer •@sakonma
director • @bahamutia
writers • @bahamutia & @ZenithOmocha
composer • @clealeshlick
character (Yazad) • @bahamutia
character (Salam) • @ZenithOmocha
beta testers • @Ihnky & @sirensxreverie
| | |
| --- | --- |
| Status | Released |
| Rating | |
| Authors | sakonma, Zenith + Baha |
| Genre | Visual Novel |
| Made with | TyranoBuilder |
| Tags | Anime, bl, boys-love, drama, Fantasy, japanese, Mystery, oriental, shounen-ai, supernatural |
| Average session | A few minutes |
| Languages | English |
Install instructions
Download instructions: When you click on "Download", make sure you have pop-ups allowed, so that the game-downloader can be initiated.
Install instructions: To start up the game, double click on the "OfBloodAndShadows.exe" file ONCE. Then give the game some time to load. It usually takes about 1 minute. Do NOT double click multiple times, as this will result in the game not starting up at all.
Comments
Log in with itch.io to leave a comment.
There's no way to turn down the volume or skip through most of the unwanted stuff.
I really enjoyed the experience and the narrative of this game. Although the background music did not vary much, I find that very suitable considering the setting of the game. (Though, I would really appreciate an option to adjust the music and sound.) The game may be limited in its way in terms of time, funds and possibly other reasons I may now be aware of. Otherwise, I was really anticipating a lot more depth in the main characters' secrets, backgrounds and the development of their, now, entwined fate considering that the "About" section has brought my hopes up. It was really pleasing to see some expression changes as the characters interacted throughout their dialogues and if that can be seen more available in the CGs, that would certainly be a big bonus for us. Now, about the CG, (minor spoiler) I didn't manage to unlock Yazad's first CG scene/extra right away because of my initial choice, the combat scene was what I gotten first. My goodness, I have so many praises for the art. It's gorgeous. Even after both plays, I had to just go back to the choice and unlock the CGs I missed. It was generally effortless to get them, but I just had to get all of them. That is precisely how wonderful the art is. Bless the extras gallery. In regards to the plot, I really like that we can have the chance to look through both perspectives of the main characters. What might be a little downside is that the skip text feature skips unseen text too. I eventually decided to not skip and refer to the logs but re-read the dialogues and look out for the variations.

Overall, I have to admit that I am not a fan of commenting on games but really, I have put this game on the shelf for quite a while due to time constraints but I knew I had to give this a try soon. Despite how relatively short and some really minor inconvenience here and there, I'm really contented by how the visual novel still manages to convey the gist of the plot and wrap it up decently. A lot more can be anticipated but it is an excellent little immersion here. What's more, these beautiful arts are free. The characters are also generally likeable. Like I have said, there can be so much more potential in this but if anything, this will be a piece of work that I am finding myself enjoying more that I expected to. Haha, this comment is turning out longer than I thought.. Regardless, given the much efforts in the game, I would really just wish to express my gratitude as one of the many who have gotten the chance to enjoy this piece.
Thank you, creators!
This is a bit of a delayed response, apologies for that.

Thank you so much for taking the time to play the game, and to write your amazingly detailed and insightful comment! True, this was a passion project with no commercial intent or backing, but it still came from the heart, and to see others enjoy it is such a delight!

Again, thank you kindly for being a player of our VN!
Just finished the game and wanted to say, it was fun! And having a new game+ with so much extra content was really nice. The art, especially the CGs, were gorgeous.
I'm just getting into the game but i'm suddenly at a part where nothing is happening ?? It's the scene where Salam tells Yazad to leave him alone and stop following him and Yazad is on the bridge. I've tried clicking around and restarting my laptop, but nothing, Am I supposed to wait to come back and play...?
Wow! I'm impressed! The music is wonderful, the art of the background is gorgeous, and so are the characters! I really hope to see more! I also love the writing ! :D
May download in future if possible. Thank you for making " Happily ever after". 💕 I assume you may have plans to make this game available on Android as well. Again thank you for creating and making our lives joyful with your comic. 🙇
Thank you so much for such kind words, it is so good to know that what we make brings joy to people! And yes, there are plans to hopefully port the VN to Android eventually in the future, it just might take some time before that happens.
IDK Y but I cant download it :(
Despite that the story seems a bit rushed (if not cliche), the art and the oriental BGM already enchanted me.
I want to playyyy it looks super interesting. But I have windows. Will it be availiable on windows soon?
I'm pretty sure it is for windows too. I just downloaded it with my windows computer and it seems to be going smoothly.
Hello!
You will find the link to the Windows version above. We look forward to hearing from you after you play it!